Gossip from the Kitchen 2022-2023
---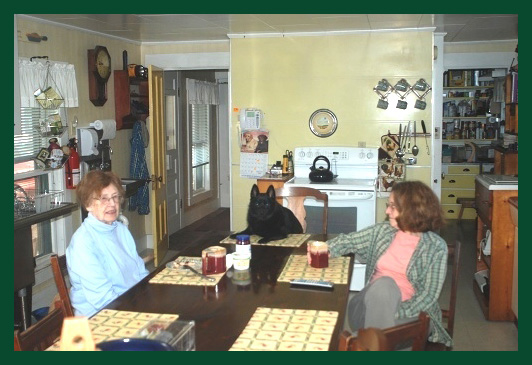 Our
2022 season was a year with many new guests and activities.
Throughout
the first quarter of the year, everyone still was dealing with covid and being careful. We had our shots and did not have many guests.
Also
in February I had to renew our Safe-Serve License. This requires taking a course to learn of the changes in the processes of all phases of serving food and passing a written test. It is always a bit stressful and I was so glad when it was accomplished.
The
month of May was booked by a business for employees who were contracted to make improvements to the Woodland Mill in Baileyville. Half of the group worked nights and the other half worked days. It was a challenge to keep track of everyone while trying our best to keep everyone comfortable.
Meanwhile,
we still planted a garden. Unfortunately the dry weather made the harvest somewhat limited. We did have some peas and a lot of string beans but cucumbers and tomatoes were limited and squash and pumpkins were miniatures. However, we still had plenty of blueberries.
Early June
we were pleased and happy to serve meals to our returning guests for their annual spring fishing trips. Then starting the second week, we had our roof replaced on the barn. Last year we had the inn roof finished but the roofer ran out of time to do the barn. So for two weeks we were dealing with the effects from major construction. We had to take down some of the dog's fence and double check for nails and debris. Also at the time one of my daughters made a visit which always is special and fun.
In July,
the local folk art festival in Grand Lake Stream was back after being cancelled for the past two years. Vendors and guests stayed with us and we always take time off to attend the event for ourselves.
Throughout
the summer we continued to have many groups of families and their friends stay overnight having dinner and breakfast before launching on their canoe trips on the St. Croix River.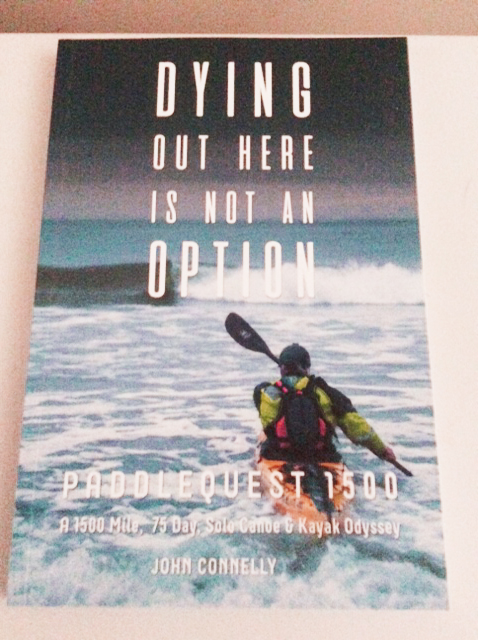 In August
we had the surprise of learning that our guest, John Connelly had written a book about an adventure he had in this general area. His book, "Dying Out Here is Not an Option", is about his 1500 mile, 75 day solo canoe and kayak trip. He started at Old Forge, New York, which is the beginning of the Northern Forest Canoe Trail, which travels up to Fort Kent and on to St. John NB. Then he followed the Maine Island Trail and ended his trip in Kittery. We felt very fortunate to meet this writer, John Connelly, and his wife Nicole when they stayed here at the Bellmard before and after a paddle on the St. Croix River. He left me a copy of his book, which he signed. I am an avid reader and so enjoyed his story. It was in 2016 that he undertook this adventure when he was turning age 60. I loved his description about aging: "Getting old is like rusting". This is a truly great read about his taking on a major challenge, observations of the places he traversed, stories of the people he met and tales of support from his wife Nicole. I am sure he gave her a few more grey hairs. John has done many other things that include founding white water rafting operations in the Northeast, mid-Atlantic and Europe; competing in white-water world cup and championships. It was fun to meet John and his wife. They were delightful guests but after reading his book I feel very fortunate to have met them. If you want to learn more about John, check out his informative website https://www.paddlequest1500.com
We
are certified by the Maine Bicycle Coalition and sometimes have guests who are on bicycle trips stay a night or two. In the summer we had three young men who braved the Stud Mill road on their bicycles from Sunkhaze Meadows all the way to Princeton.
Also
there were guests going to and coming from Canada while trying to keep track of the latest regulations. Now all covid requirements have been dropped and the border is back to normal.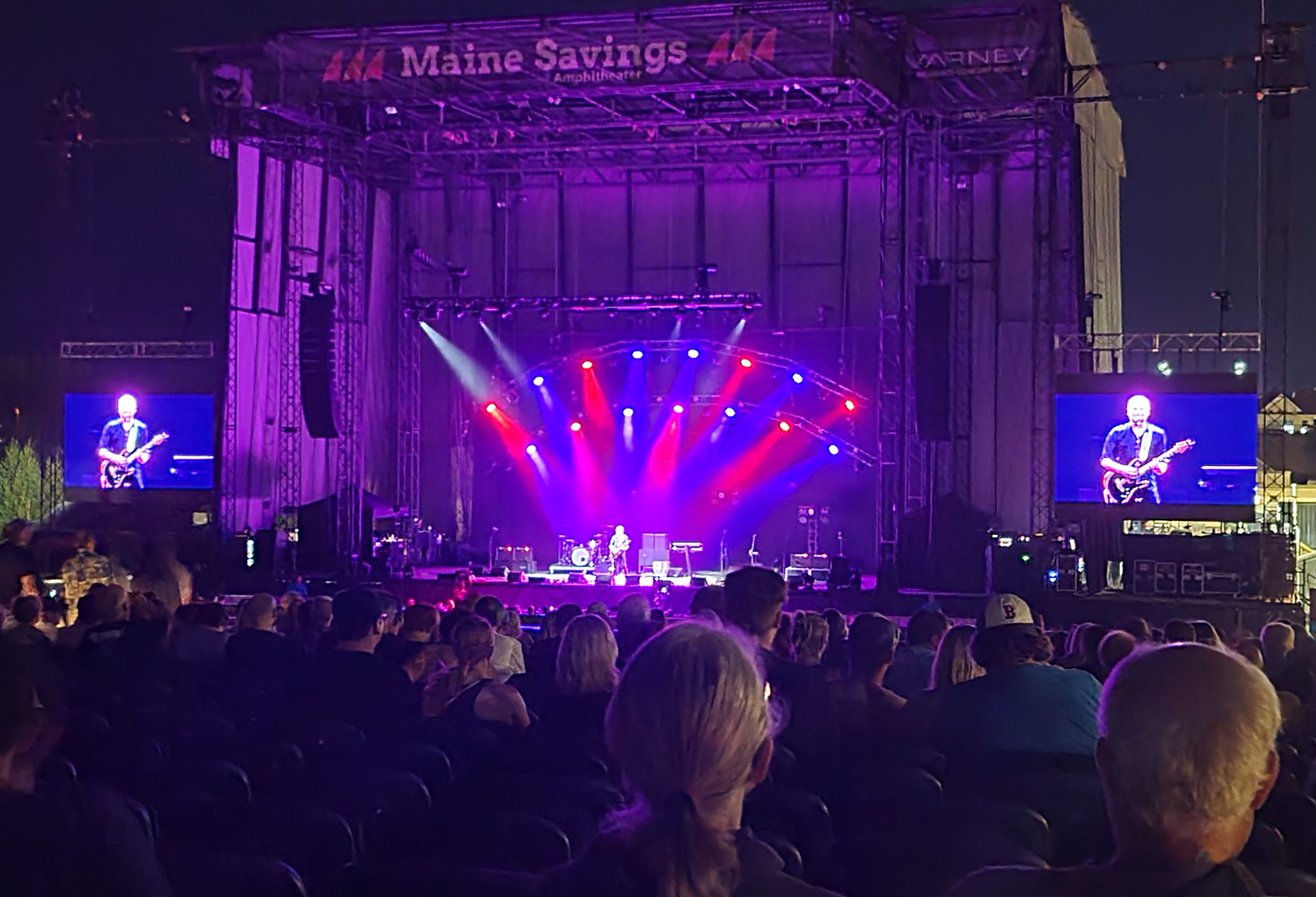 In September,
two of my daughters visited to help celebrate another birthday. I had promised to make my baked donuts and peanut butter fudge for them and they treated us to a Chinese dinner from Ellsworth. Also for my birthday Doug and I went to see "Sting" who was performing at the Bangor Waterfront. This was the first time we attended an event there and found it very enjoyable and Sting's performance was fabulous.
In November,
the weather was unusually warm and we are able to do a bit of catch up on outside chores including some landscaping.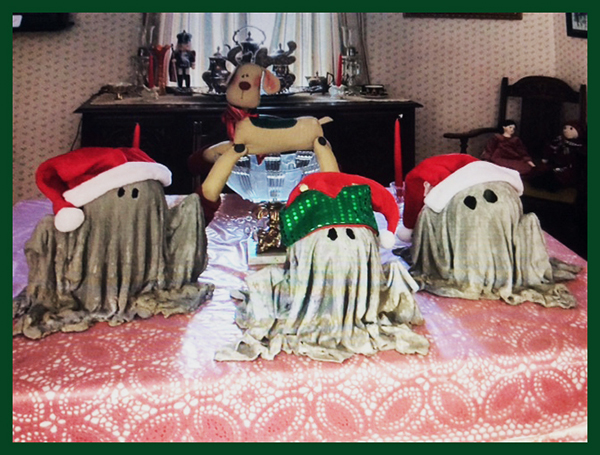 In December,
we helped a new community group, Princeton Parks & Recreation, with the Princeton Tree Lighting event. We put the lights on the Legacy Square tree with help from the Princeton Parks and Rec personnel including some special young helpers. The celebration was on a cold night but was a nice event with the Princeton Fire Department helping out using the ladder truck to place the star on the top of the tree and Pastor Ernest Carle of the Christian Advent Church, leading the carols.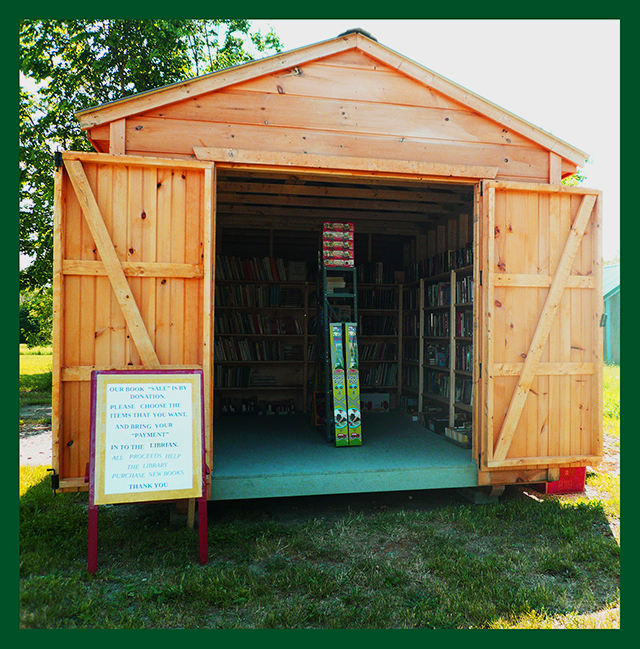 For

genealogy research and information on local families, the Princeton Library is open four days a week. Our librarian is Heidi who along with the Princeton Library committee followed guidelines for libraries to make it safe for her and the patrons. The library offers wifi and use of computers and printer as well as a good selection of books and dvds. Also we have a summer reading program for adults. A great addition to the library in 2020 was The Book Shed where extra donated books are sold. All proceeds go back to the library.


Our

Veteran's Monument in Legacy Square, is maintained by volunteers, and continues to be a special place to sit and appreciate our veterans as well as enjoy the garden area.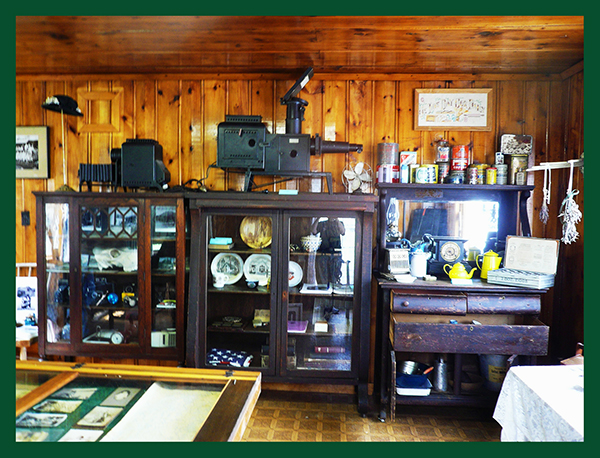 We

have our own Bellmard Cottage Museum. In 2013, we became aware that there was no one place for historical items within the Town of Princeton. Behind the inn is a small cottage which we did not use very much. So, we began the project throughout that spring and summer of gathering personal items that we had saved over the years and designing displays. Sue Story donated a buffet, which Doug repaired, and we refitted cabinets and tables. Also the Friends of Princeton found a trunk in the town building that had photographs and other memorabilia that we put on display. Our own items include variety of vintage tins, enamelware, dishes, furniture and photography equipment. Also Willis Butler, the previous owner, gave us a framed document that included Albert Belmore. Our little museum is now a permanent part of the Bellmard and is open to guests from June-September.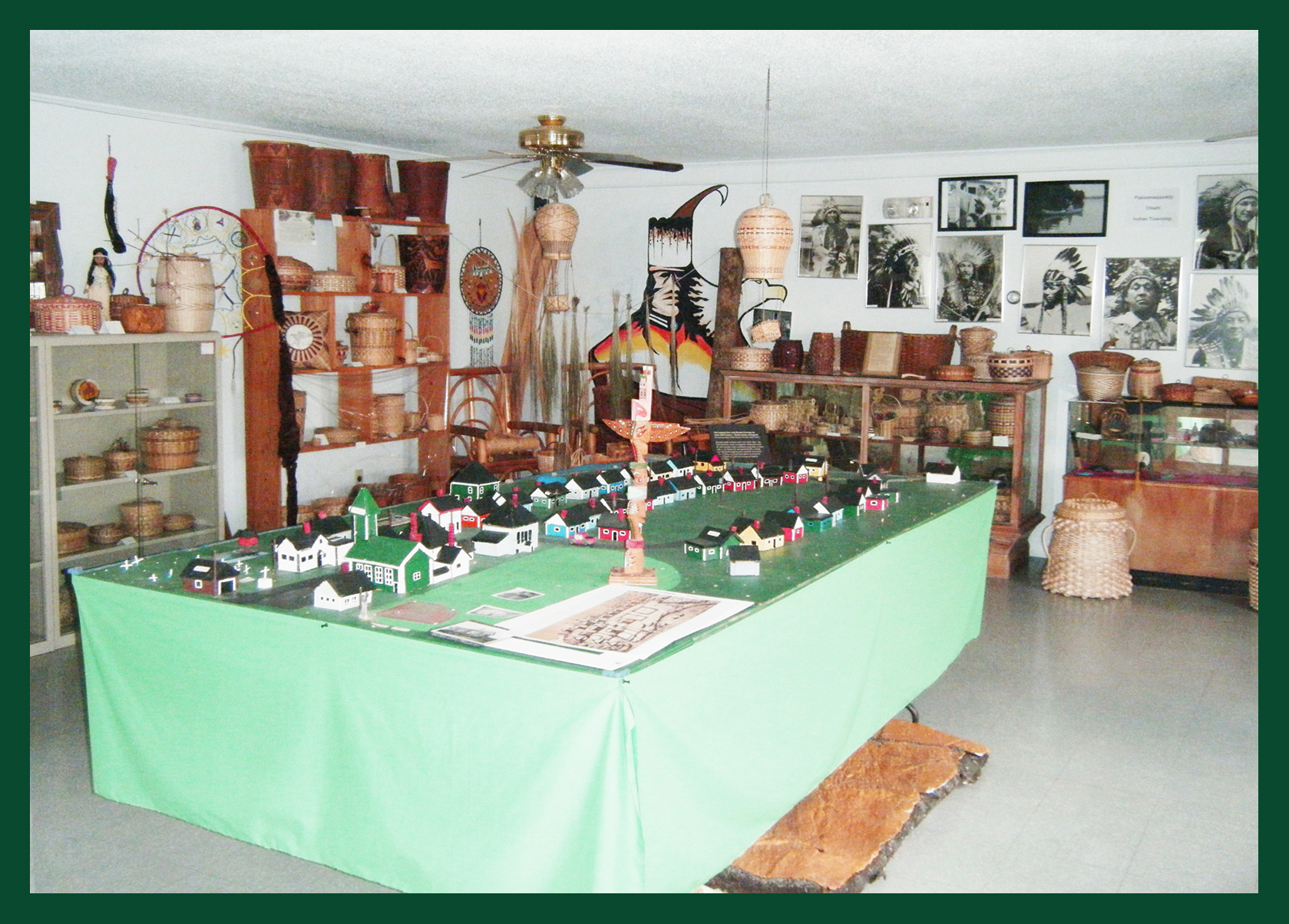 Open

by request, is the Passamaquoddy Cultural Heritage Museum on Indian Township. The displays that this little museum has are sure to earn the visitor's interest and respect. There are all types of native baskets, items of birch bark, paintings, photographs as well as items for sale.


September and October

here are the prime scenery months. The views from Route 9 with the endless changing shades of red throughout the blueberry barrens is something even we take a ride out to see. Don't forget to visit the Wild Blueberry Heritage Center in Columbia Falls newly opened this year, to share the wild Maine blueberry history. Another day trip follows Route 1 to the Million Dollar View in Weston and then moves on to Houlton, all of which makes it well worth the drive.



Christmas

we spent here with our immediate family being the dogs and Millie the feral cat.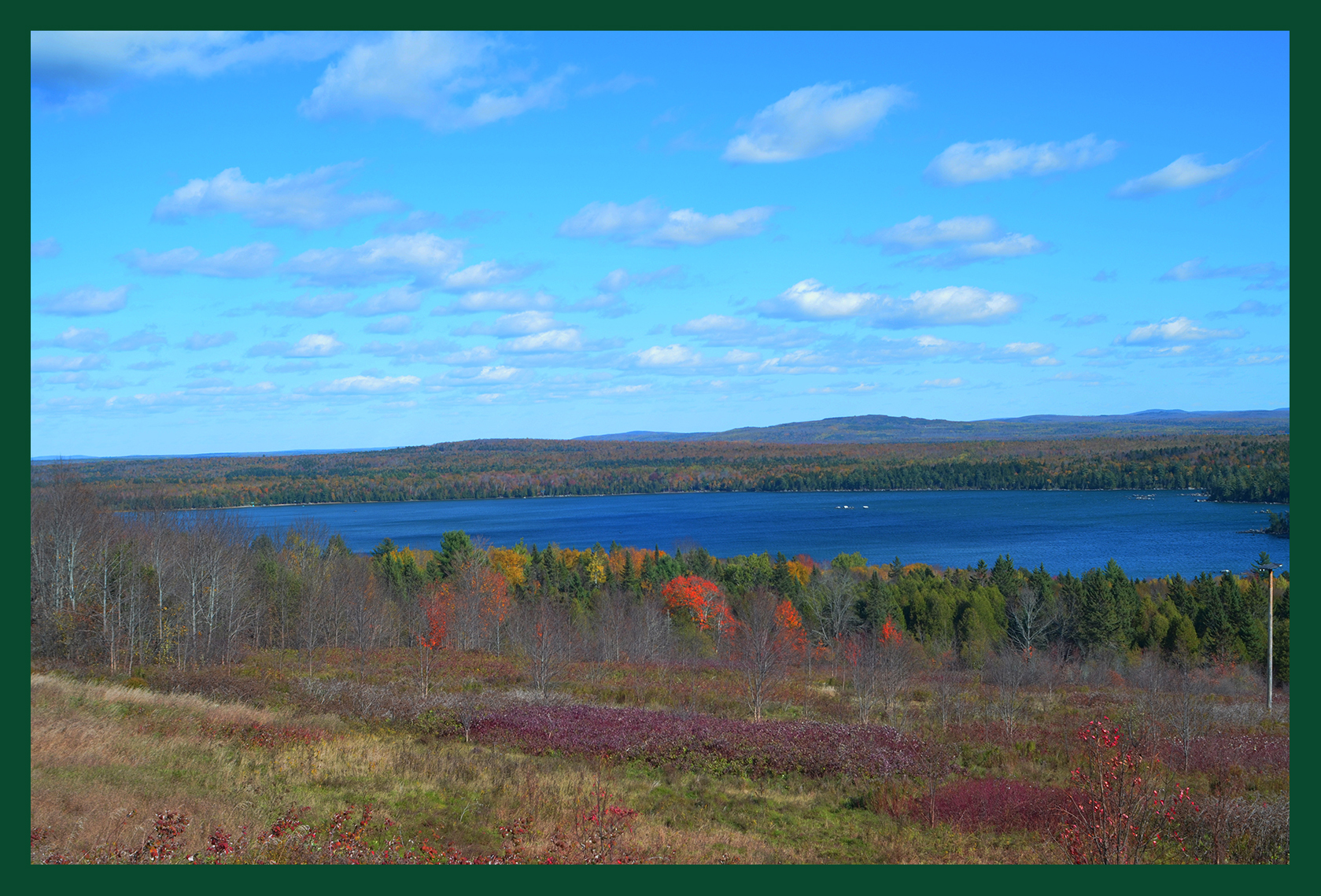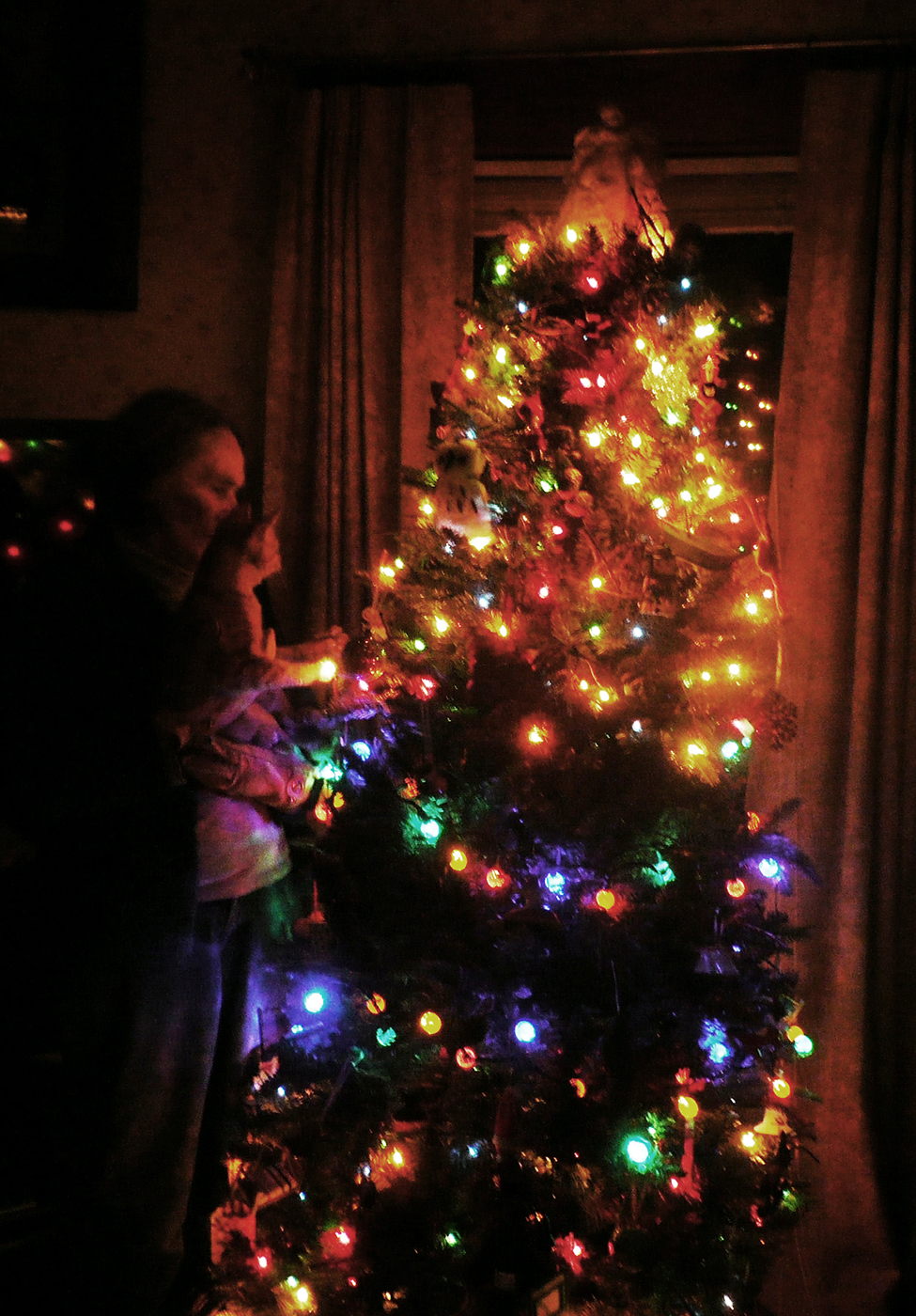 Area Activities

Scheduled for 2023 Annual Downeast Birding Festival-May 26-29 Grand Lake Stream Folk Art Festival July 29-30; Chocolate Festival St.Stephen NB-August; Salmon Festival Eastport-September; Pirate Festival Eastport-September; Annual Town of Waite Yahd Sale-Septembuh.