Gossip from the Kitchen 2014-2015
---
We
continue to be open year round for lodging but somewhat limited in the winter months. Our guests include those who are working in the area, friends of local families and travelers passing through. Also returning, are dedicated ice-fishermen once the lakes freeze over. We have kept our rates reasonably priced and offer a clean, comfortable, friendly place to stay. Note that we serve meals only April-November.
This
winter of 2015 has been a record breaker here but it is what makes life in Maine always a challenge. Doug has been out clearing the driveway every other day. Our dogs thinks it is fun and I just keep busy doing paperwork and computer projects.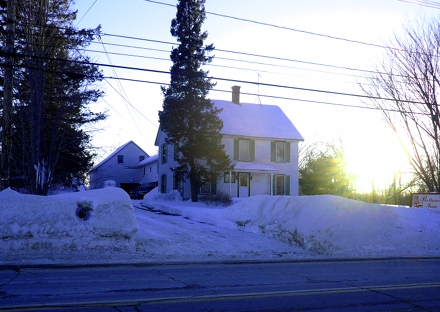 Our
community continues to work together to ensure its sustainability. Our library has worked all year on fundraising activities and received a grant to make some needed upgrades and a new room. Our Veterans' Monument in Legacy Square, maintained by the garden club and volunteers, continues to be a special place to sit and appreciate our veterans as well as enjoy the garden area. Also it is a focal point for our tree lighting.
In May,
we had the 8th grade students from the Princeton Elementary School plant flowers in the barrels on Main Street. It was a cold, rainy day, so we served hot cocoa.
Also
in May, we had the Perkins family stay. They did some research on the family and sent us some copies of their family home in Big Lake Township
May
is prime fly fishing on the legendary Grand Lake Stream. We are only 20 minutes from the stream and offer a good value for our accommodations and traditional New England meals cooked by us. It is always fun to have our returning fishermen come and stay here and catch up on the year's news.
From
May through October we were busy with many guests and groups, who were canoeing the St. Croix River. This river has become one of the most sought after waterways to paddle in Maine. Some guests do the trip on their own and others work with outfitters such as Sunrise Canoe Services.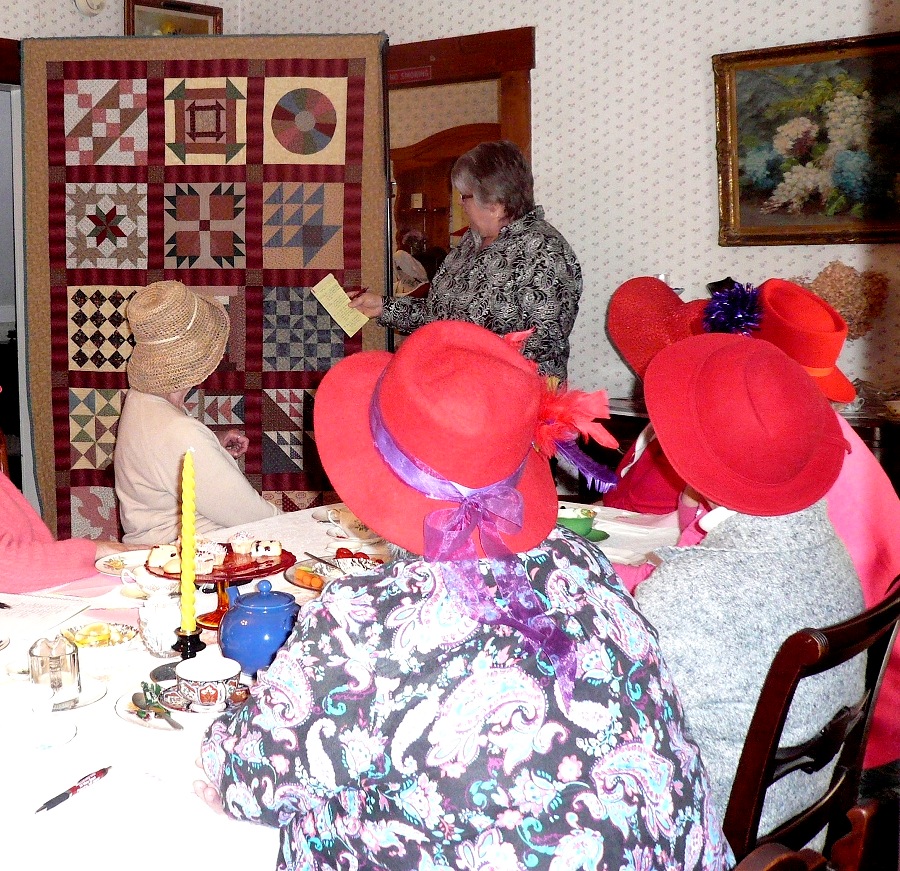 June
was Princeton Farmer's Market again at Princeton's Andrews Ball Field, Thursday from 3:30 to 6:30 through September. Vendors sold vegetables, plants, crafts, soap/natural products, folk art items, and baked goods. The Princeton Grange sold soda and raffled items. We operated the Grand Lake Stream Area Chamber of Commerce booth to advertise local businesses and activities. Additionally we made lemonade to raise funds for the Friends of Princeton and sold tickets for the library quilt fund raffle.
June
of this year Doug and I, along with Bobbi Mather sold lemonade at the Margaretta Days in Machias as a fundraiser for the Friends of Princeton.
July
was the fifth annual Tribes of the Dawn Land Cultural and Heritage Days on the Passamaquoddy Tribal Lands only five minutes from here on Route 1. It is an opportunity to see/purchase authentic native crafts such as baskets (some of the basket makers have been honored by The Smithsonian and we had journalists doing a story on basket maker Molly Neptune Parker stay here), as well as wood carving, beaded/quill jewelry, paddles, and clothing. Also presented were ash pounding, native drumming, dancing, story telling, and canoe making.
Open also is the Indian Township Museum on Indian Township. The displays that this little museum has are sure to earn the visitor's interest and respect. There are all types of native baskets, items of birch bark, paintings, photographs as well as items for sale
July
the Friends of Princeton sponsored a flea market at the Andrews Ball field for a second year. We again had a booth and it is a fun event. Also the library sold books and raffle tickets for their quilt.
The last weekend in July
is always the Grand Lake Stream Folk Art Festival. This was the 20th year and is a highly regarded event offering exhibits of the history of the area, music performances as well as over 60 excellent crafters. We always have both exhibitors and attendees who enjoy staying with us.
August,
was a busy month. We again had the pleasure of members of the Belmore family stay with us. This time Sarah brought Jennie Belmore's snow shoes, which had been made in Princeton. They are just so special and we put them in our museum. And in September her sister Katie came by for an overnight and dinner and brought photos of Flora and Daniel and some tea cups for our tea. We truly appreciate having these items to add to the Bellmard's History.
Also
in August we had our Princeton Summer Festival. There were booths with civic groups and raffles and a history display. Also demos in square dancing, K-9, and a petting zoo and small train. Also the fire department sponsored the water slide. We had a great disk jockey and live music from our local fiddler, Mary Sossong and games throughout the day as well as the ever popular blueberry pie eating contest. This is a real small town celebration and put on with all volunteers.
The last Monday in August, we hosted our Princeton book club's end of session's annual dinner. We appreciated the honor of being selected. Roast pork was the main entree and we tried out a new recipe to replace the apple sauce. And for dessert I finally found my lost recipe which a guest from my days at Penobscot Lake Lodge had given me for butterscotch pie. I made it along with chocolate cream and blueberry.
Stewed Apples
8 apples 1/2 cup white wine
2 Tbsp. butter 1 small piece lemon peel
1/2 C. sugar 1 Tbsp. lemon juice
1/2 C. water
Peel and core apples. Cut into thick slices. Saute in butter 2 to 3 minutes. Sprinkle with sugar. Add water, wine, lemon peel and lemon juice. Cover and cook slowly until the apples are tender. Serves 6.
Butterscotch Pie
2 C. brown sugar 6 Tbsp. flour
2 C. milk 6 Tbsp. water
4 Tbsp. butter 6 eggs
2 tsp. vanilla
Mix sugar, flour, milk, butter, and water in saucepan. Boil, stirring, for six minutes. Add 6 well beaten egg yolks. Boil and stir for another couple of minutes. Remove from heat and add vanilla. Pour into pre-baked pie shell.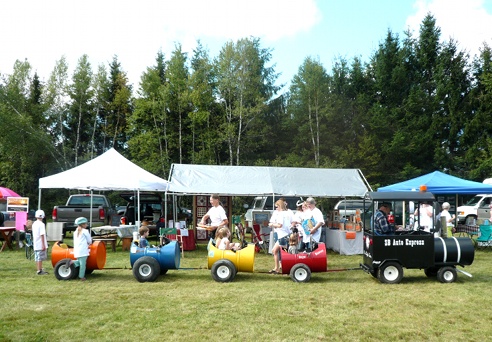 September 13 from 2:00 to 4:00
we had our third tea and tour at the Bellmard. This special event is to celebrate the first woman to start a business in Princeton, Flora Belmore of, "Flora Belmore's Fancy Millinery". The special part of the tea was a lecture by Sue Martel, who made and donated the quilt, gave a talk about the symbols represented by each square as signals to help those along the underground railroad. Over $5,000 had been raised since spring from sales of the quilt raffle tickets, used book sales, and donations for the Princeton Library Building Fund. There was much excitement about the drawing and the big winner was Bob Wallace of Princeton. Also there was a special raffle for all those who attended of two Bellmard Inn Cookbooks, the newly republished Early History of Princeton book by Bruce Belmore and a basket donated by Jo-Anne Cannell and a basket donated by Bobbi Mather.
Friends of Princeton members made their own specialities of delicious tea sandwiches and fancy cookies. We set up the dining and living room with our own ever increasing collection of tea pots, tea cups and dishes. Four of the bedrooms had displays: a complete revolutionary war re-enactment dress and utensils lent by Veronica Moffitt and 1800's vintage dresses and hats; a 40's 50's display of hats, dresses, gowns and books; an Asian display of glassware, art and clothing from Sandra's personal collection with additional hats, shoes, and clothing lent by Bobbi Mather. Also Bobbi came dressed in a vintage hat and clothes and our State Representative, Beth Turner, arrived in a full vintage outfit of the 1940's, that she had fun the last few months finding accessories.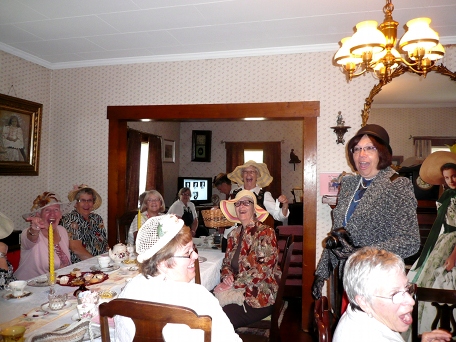 The Bellmard Cottage Museum was also open for tours. In 2013, we became aware that there was no one place for historical items within the Town of Princeton. Behind the inn is a small cottage which we did not use very much. So began the project throughout that spring and summer of gathering personal items that we had saved over the years and designing displays. Sue Story donated a buffet, which Doug repaired, and we re-fitted cabinets and tables. Also the Friends found a trunk in the town building that had photographs and other memorabilia that we put on display. Our own items include variety of vintage tins, enamel ware, dishes, furniture and photography equipment. This year we added a new display cabinet and some new vintage hats and cameras. Also Willis Butler, the previous owner, gave us a framed document that included Albert Belmore. Our little museum is now a permanent part of the Bellmard and is open to guests from May-September.
In October,
we had some special bird hunters on their way to Canada stop in.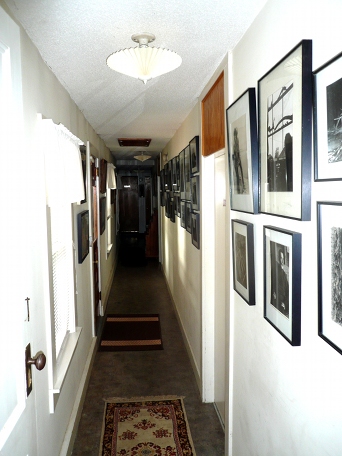 In December,
The Friends of Princeton, had their fourth Christmas Tree lighting. Doug and I volunteered to put the lights on the tree. (However, we did not get them off until mid-January with all the below zero weather and snow.) We gave out music for singing Christmas carols and lit the tree. After everyone headed to the fire station and we served cocoa, gave out bags of homemade cookies by the Friends of Princeton members, and a special Christmas decoration. Also Santa arrived on the fire truck and gave the kids a chance to tell him their wishes.
Overall,
2014 was a busy year with ice fishing, fly fishing, canoe trips, shut down workers and celebrations. We also had guests staying who were dedicated to geocaching. There are lots of caches in our area and particularly on the Stud Mill Road.
Our
downstairs hallway has been a good area to display some of our collected art work. This year, to change things a bit I re-activated my own black and white photography show.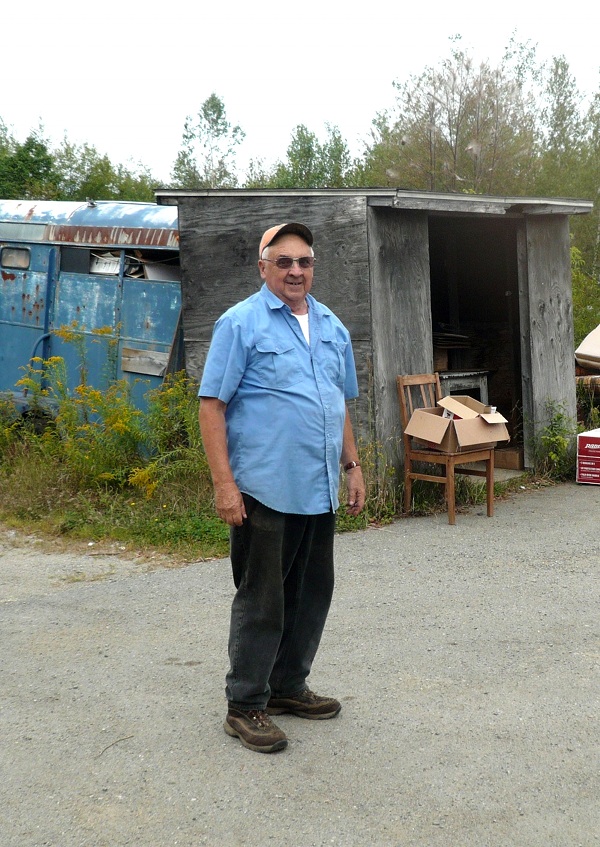 When
you live in a small town any change is a big one. Our transfer station manager, Guel Roberts retired after many years. We see him around town but still miss him on Sunday mornings. Also our friends, Alan and Bobbi Mather of the Baptist Church, moved away in October. The contributed so much to our community activities and come spring when Friends starts up we will truly miss their helping hands.
Also,
we are a very convenient and reasonably priced stopover place for those traveling into Canada.
ATVing
is supported in this area with two ATV clubs and many trails being added every year.
September-October
here are the prime scenery months. The views from Route 9 with the endless changing shades of red throughout the blueberry barrens is something even we take a ride out to see.
Also
it is a great trip up to Houlton or over to Eastport.
Area Activities for 2015 GLS Fisherman's Breakfast-May; 12th Annual Downeast Birding Festival-May23-26; GLS July 4th Celebration, Indian Days-July, GLS Folk Art Festival-July 25-26; Calais International Homecoming Festival-August; Princeton Summer Festival-August; Bellmard Tea and Tour-September 12; and the Princeton Farmer's Market June-September